KJAK Radio 939 FM Charter Members Wish You the Most Pleasant Greetings during the Autumn of 2006! Fluffy Graduates from CRNA School!
Top row (left to right): RB, PJ, P.Vernon, Junior
Bottom row (left to right): GT, Roger Dodger, DK the DJ
Missing: J. Wally, JA, Grandpa, Doc Tennis Shoe
<![if !vml]>

<![endif]>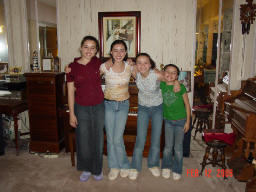 The newest KJAK Kadets, from left to right: Sarah, Anna, Rachel, and Susanna. Welcome Aboard!
See more of the KJAK Kadets on KJAK's Favorites link.
Golf: For the fourth year, the foursome of DK the DJ, PJ, P. Vernon and Junior tackled the links,
defending their title as the worst golfers Calvary Chapel Christian Schools has ever known. The big date was
Monday, May 15, 2006. Gentlemanly wagers were placed, and those who went against these four lads were put
in their place. Again the lowest scoring foursome, but again no one had more fun at the golf tournament!
Nationwide Search:
KJAK Radio 939 FM has just announced a nationwide search for the most beloved Doc
Tennis Shoe. He was last seen in the El Segundo area of California, and his presence is requested for future KJAK
functions. Anyone with information is encouraged to contact KJAK Radio 939 FM at sgt53@charter.net. To sweeten
the deal, KJAK will be offering a super scoop of French (phooey) Fries to whomever provides information that
leads to the Doc's reunion with his buddies.